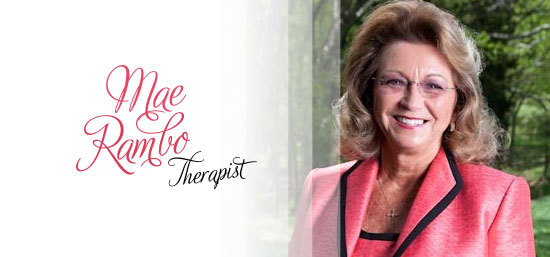 Mae Rambo brings more than 17 years of professional counseling experience to this agency. She spent many of them as a school counselor to children and adolescents from every imaginable background and home setting. Her no-nonsense, yet compassionate counseling style has helped children overcome unspeakable challenges and has helped parents and couples build strong relationships with their children and each other.
When it comes to her clients, Mae makes it personal. When they first arrive at our agency, she carefully evaluates their situation and helps them establish attainable goals for themselves. Through the counseling process, Mae helps each client not only achieve, but exceed their goals. Mae's class and charm brings a special kind of warmth to the otherwise clinical process of counseling. Her clients enjoy working with her.
Mae is the daughter of rural Pennsylvania farmers who taught her the value of a job well done. They also taught Mae to recognize the worth in every human and to not only love them, but respect their uniqueness. Mae's care and concern for her fellow man, combined with her wit and positive, can-do attitude, makes her one of Beverly McManus Counseling's greatest assets.
Mae is happily married to Southern Gospel Music Legend Buck Rambo of the Singing Rambos. Buck and Mae have ministered at churches across the United States about the devastating effects of depression. They have also taken several missionary trips to the Bahamas and Costa Rica. They call Franklin, Tennessee home.
Mae stands ready to counsel and comfort your family. Call our office to make an appointment with her.