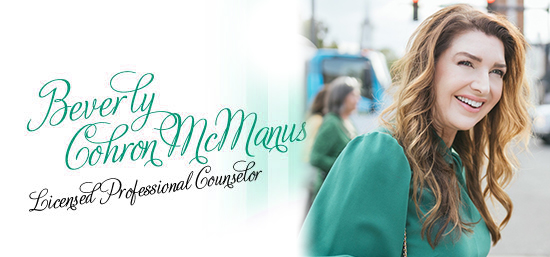 Beverly Cohron McManus has counselled in the Nashville area for over 17 years.
You will find Beverly to be very empathetic, considerate and nurturing. She offers a non-judgemental approach to sensitive issues. She is also honest and straightforward. She respects her clients and the goals that they establish for growth in their lives.

In family and marital counseling, she addresses the issues that all parties feel need to be discussed. Her clients know that she is committed to their wellness.

Beverly attends workshops and educational seminars, constantly seeking to improve techniques used in the counseling setting. She is also in demand as a speaker for Marriage Seminars and Retreats as well as Parenting Seminars. Some local corporations rely on her expertise during crisis. She is often called on to counsel employees affected by trauma or emergency situations.

Beverly is happily married to Kevin T. McManus. Kevin is a renowned music producer and engineer. They have been married over 17 years. In January 2007 they were blessed to adopt Kyle Edward McManus. He is preteen and the most beautiful red haired, blue eyed boy in the world!

Beverly is personally very committed to the growth of each individual and couple she has the opportunity to work with. Her goal is to help you achieve the growth and potential YOU desire!